Chastity Highlight and Q&A with Collared babe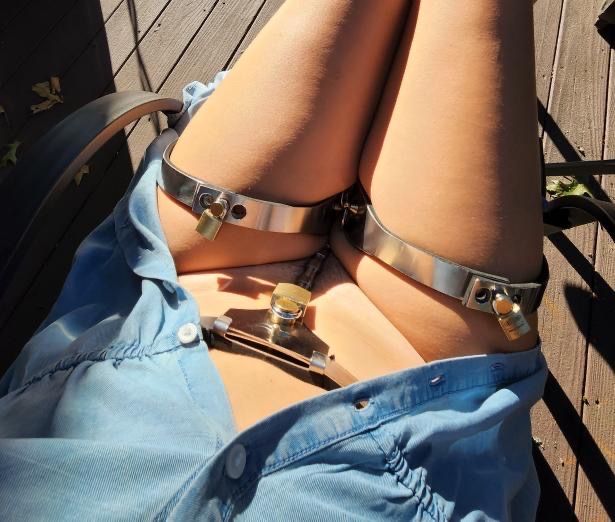 Can you say more about how you got into the dual-chastity dynamic? It's still pretty unusual in my experience, but so freaking hot. I hope more kinky people get inspired by you guys!
How we got into the dual-chastity dynamic🤔... Well, the condensed version looks like this:
I originally told him he was only allowed to put me in a belt once we got engaged (see how persuasive I am?). He basically said say no more and a few months later he proposed and I got my first belt. But only once I let myself open up to the idea of chastity, and fully accept it, did I understand what it meant and what it could do for our bond. Shout out to whoever made chastity a mainstream kink🤙
His love of chastity has been around for a while, which of course made him the initiator of it all. He got his first cage about a year and a half prior to our engagement and it was a train wreck. It was silicone and felt like we were in a kink purgatory when trying to get it on, I think it was a mancage?? Idk, I don't even want to know lol. Fast forward to getting our first knock off plastic cage and we knew from them on that was the look/style that we wanted. Functionally, it pinched and slipped off easily even if there was no user error. Not a fun experience for my very excited, but now dissapointed bf. We decided to work our way up the cage train -wasting a lot of money trying to find the right one- and landed on the cobra.
Disclaimer: When I was first learning about chastity I was confused. I was not picking up on the reason behind his desire for it, or why he wanted to be locked up by me (and I think other people may be in the same boat?). Now that time has passed and I allowed myself to immerse myself in it, I fully understand the desire for it. We personally enjoy it because it has allowed us to deepen our bond by creating an environment where we feel safe and can trust one another. Communication and passion has increased as a result and the dual-chastity concept just came as a bonus. So nothing really got me into it except for the fact that I loved my fianceé, but now I continue to do it because of how it strengthens my relationship with my future husband❤️
With that said, any man or woman out there who has reservations toward chastity... I say just do it ❤️ I could not imagine you would be dissapointed. Cheers 🥂
More can be found here.... 
---